Commercial Photography in Tallahassee-Which photo are you?
Below is a series of photos I've done for one of my clients in Tallahassee.  The small photo is what one mostly sees in advertising materials for apartment complexes.  I never understood why as they just don't look like a fun place to live.
It is understood that some customers just want to see a simple layout because they shop solely based on price.  If that's the clientele you are marketing to, then it's less expensive to shoot those room view photos.  I shoot those photos too but I take them home to plan my shoots with.
But, if your goal is to market to a different caliber clientele, then why use the same discount look as the apartments that are marketing to the price only customers.
I find it difficult to subscribe to the lowest priced commodity business model  but instead subscribe to results oriented craftsmanship.  It shows in everything you do.
In this case, if you're a student in Tallahassee, which place would you rather live, I mean really?
Every apartment complex has it's plain and less attractive areas.  I turn these areas into assets with a production photography campaign.
The competition for good rental customers is fierce in large university towns, so the value of quality production photography does result in a higher occupancy rate. It's rewarding to have clients tell me they feel my work accounts for a good portion of their occupancy rate increases.
I take the less than attractive parts of your complex or company and turn them into visuals assets worth advertising.   In these tough economic times it's much too expensive to waste valuable  time on multiple photo shoots and the money on advertising that looks like every other advertisement in a magazines or on the web.  The value to a client for hiring MarkWallheiser.com goes beyond the resulting photographs and includes: the time savings in planning the shoots, securing the model releases, production time that the client doesn't have to stress with.  Commercial photography in Tallahassee couldn't be easier.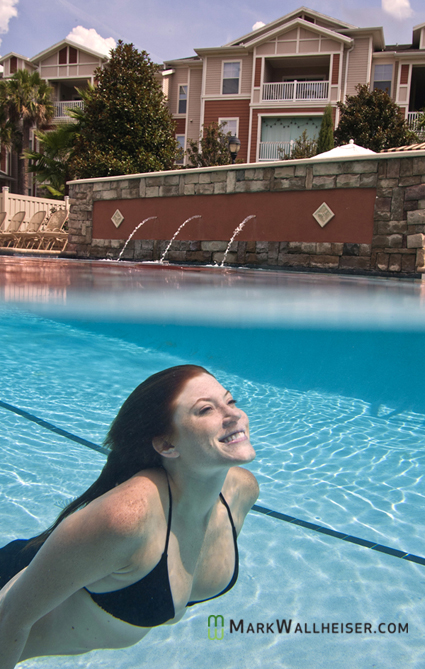 I am passionate about my work and the power of visual story telling.  I am inspired and driven to produce the best visual product on the market and aggressively deliver the best images for my clients.  Those services and the ease in which I work are what make my customers repeat customers.
The difference between the sand volleyball court at right and my interpretation is the difference between boring and wanting to live there.
I take plain and make it wow.  I take boring and make it fun.  There are few places that need to be more fun than the pool.
If your looking for commercial photography in Tallahassee that conveys your mission and furthers your company's objectives keep MarkWallheiser.com in mind.  A consult at your office should give you all the information to decide, which photo you need to be.
Listening to: George Strait-Troubadour